In 2022, Trilogy Flavors identified Flexitarianism as a main driver for plant-based food and beverage consumer usage. Consumers are still interested in reducing meat consumption and increasing plant-based food consumption. However, consumers' plant-based interest and behavior is evolving as plant-based dairy and plant-based protein innovation endures. Many of the challenges Flavor Chemists face when formulating for plant-based products remain. Consumers continue to explore plant-based products with a renewed interest in vegetable-forward products and a piqued interest in plant-based fish and seafood. 
TASTE IS THE NUMBER ONE BARRIER TO PLANT-BASED FOOD & BEVERAGE
Taste is the number one barrier consumers face when choosing or not choosing plant-based alternatives. According to FMIa, the perception of taste is the top reason why consumers have not tried plant-based meat or dairy and why consumers who have tried them once or twice have not continued purchasing. Cost is the second most significant factor.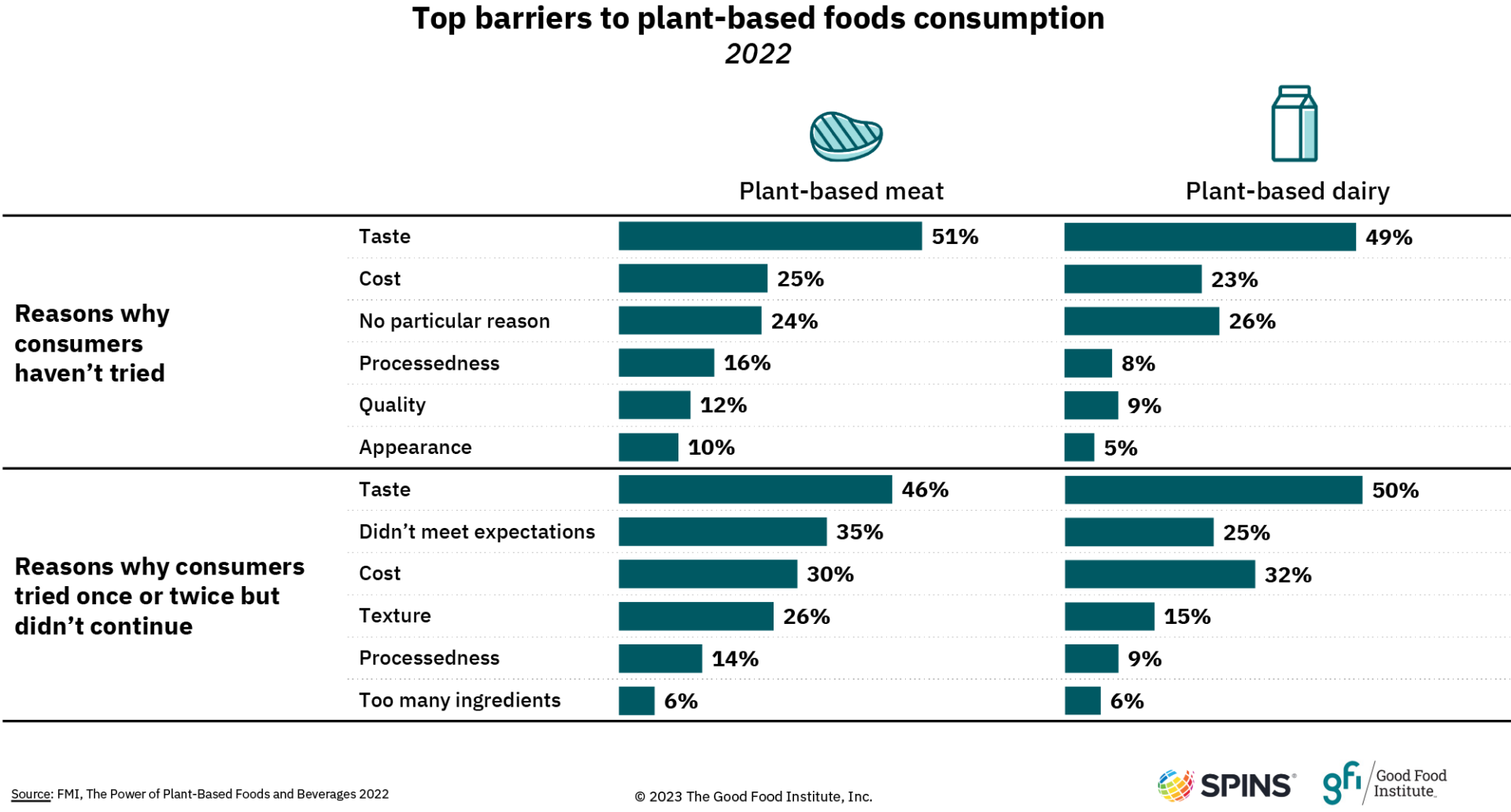 Plant-based innovation is happening across food and beverage platforms and is not slowing down. We know taste is a primary goal for all products and critical for plant-based dairy and plant-based proteins. Trilogy excels in high-impact flavor formulations with a diverse portfolio of vegan flavors designed specifically for plant-based products. Let Trilogy be your co-creator as you explore and develop new tasty plant-based applications. Request samples here and reach out to partner with Trilogy Flavors on your next project.
PLANT-BASED DAIRY
According to the Plant-Based Foods Associationb, U.S. plant-based milk accounts for almost 50% of the space allocated to plant-based products, making up 42% of all milk sales in the natural channel in 2022. The overall plant-based milk category saw a sales increase of 8.6%, totaling $2.5 billion for the 52 weeks ending May 21, 2023, according to Circanac. Mintel's insightsd show that plant-based drinks are recording a faster rate of launch activity than other plant-based sectors in North America and are focusing on improved taste quality. Almond falls from grace as a plant-based drink ingredient, as oat's share of launches continues to climb. For example, refrigerated oat milk saw a sales increase of 23.5%, reaching $551 million, with unit sales up 6.6% for the 52 weeks ending May 21, 2023, according to Circanac. Taste is a key barrier to dairy-alternative users. Cow's milk enjoys extensive usage among consumers who regard its taste, affordability, and versatility as important qualities. Plant-based drink launches are predominantly neutral in flavor, aligning with their need to be versatile. There is a level of consumer hesitancy about how much difference switching from dairy to non-dairy milk can have on climate change.
Mintel's European researche echoes U.S.'s behavior. Europeans' usage of plant-based drinks is plateauing with around one in four European consumers using plant-based drinks, and usage has not increased in the last year. Loyalty towards dairy remains strong. A majority of Europeans show no intention to eradicate dairy entirely from their diets due to several factors like taste preference and dairy's central role within many different cuisines. Price remains a significant barrier to plant-based milk usage. The expectation that dairy alternatives should offer the same nutritional benefits as dairy products is widespread.
The market is saturated with plant-based dairy beverages and creamers in a variety of bases with oat milk leading. Give consumers something special to sip on with Trilogy's flavorsome plant-based beverage flavors. Reach out to us here and request your samples here.
PLANT-BASED PROTEIN
According to SNS Insiderf, the alt protein market is expected to reach $62.65 billion with a CAGR of 16% by 2030. Alt proteins are projected to represent 10-45% of the global protein market by 2035, and 25%-50% by 2050. Furthermore, there is no shortage of alt protein investments. According to Alternative Proteins Globalg, alt protein investments reached $1.008 billion in the first half of 2023 – greater than the $940 million raised in the second half of 2022.
For many consumers, plant-based proteins continue to fall short mimicking animal-derived protein in taste, texture, and aroma. According to FMCG Guru's datah, 67% of global consumers who do not purchase meat alternatives are not satisfied with the taste, and 32% say they are not juicy. However, Mintel's researchi revealed some promising insights about plant-based meat alternatives (PBMA):
21% of consumers follow a reduced meat diet. Those who follow a reduced meat diet skew young, urban, high-income, and are more likely to hold a college or advanced degree
36% of consumers consume a plant-based animal product alternative
61% of consumers perceive meat as tasty, while only 20% perceive PBMAs as tasty
32% of vegetarians/vegans often order PBMAs when dining out compared to 10% of omnivores.
29% of parents under 40 typically stock PBMA products at home compared to 16% of non-parents aged 40+
36% of consumers eat plant-based proteins (PBP) because PBPs are healthier than meat
33% eat PBPs to add variety to their diet
21% eat PBPs because PBPs are better for the environment than meat
49% of non-category consumers cite "taste concerns" as the reason they do not eat PBPs
62% of Gen Z consumers agree that meat is a key component of an American diet compared to 84% of Baby Boomers
70% of flexitarians agree that eating less meat can combat climate change compared to 43% of omnivores
Refrigerated and frozen meat alternatives account for 97% of the category. Shelf-stable offerings generated approximately $40 million in sales in 2022, nearly doubling its sales from 2021. Industry experts expect new formats for plant-based meat to lead to a higher consumer conversion ratej.
Beef up your formulas with Trilogy's vegan meat flavors like bacon and pepperoni, which are sure to satisfy consumers' discerning palates.
More Veggies Front & Center
Although brands and manufacturers are working hard to emulate the characteristics of animal-based proteins, consumers' expectations for plant-based proteins are high, and they are often disappointed. To better manage consumers' expectations, the industry is pivoting; instead of imitating the taste, texture, and aroma of meat-based products, products are going straight to the source and focusing on vegetables.
According to Innova Market Insightsk:
Consumers are increasingly turning towards products that showcase vegetables as a hero ingredient rather than those that attempt to mimic animal-based protein
Consumers who are interested in plant-based eating, want more plants on their plates but still eat meat on occasion
This trend is not about the complete removal of meat from restaurant menus but is about pushing plants forward, to the center of the dish, rather than the side
One group is happy to eat meat sometimes and when they have a vegan or vegetarian meal they do not want it to taste like meat. The other group is vegans/vegetarians who just want convenient and delicious plant-forward options
Bring your veggie applications front and center with Trilogy's multicultural flavors from diverse cuisines around the globe. Reach out to request your samples today.
IS PLANT-BASED FISH NEXT?
In 2022, Spoonshotl predicted that faux fish would be trending this year. Global fish consumption has doubled since 1998 and is projected to double again by 2050. Furthermore, 70% of marine fish populations have been fully used, overused, or are under severe threat due to rising ocean temperatures, overfishing and unsustainable fishing practices, and pollution. Spoonshot's data showed soybeans, fava beans, peas, and green lentils as common ingredients in alternative seafood products. Consumers expressed interest in banana blossom, a flower with a flaky texture, seaweed, mushroom, and jackfruit ingredients.
Spoonshot was on target. Plant-based seafood, including fish and shellfish, were among the top three plant-based meat types that grew the most in dollar sales in 2022, according to Plant-Based Foods Associationb. Filets and whole cuts accounted for 81% of plant-based seafood sales, while crabcake-style patties comprised 64% of shellfish sales. The household penetration rate of plant-based seafood remained steady at 0.8%, with a repeat rate of 40.1%.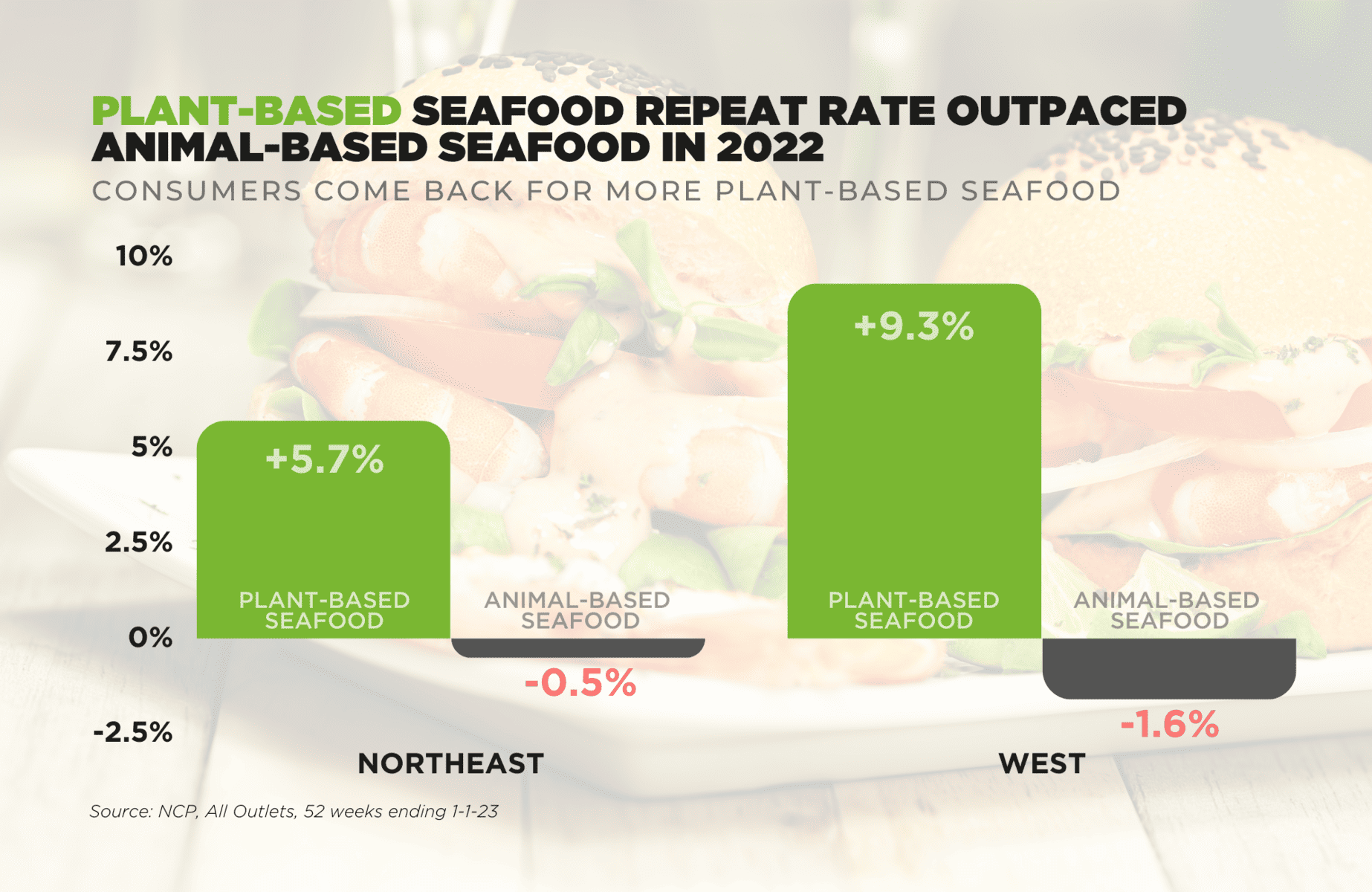 Watch as plant-based fish and seafood alternatives catch on. Get hooked on Trilogy's high-impact flavors for plant-based applications. Reach out today.
PLANT-BASED PRODUCTS ARE HERE TO STAY
Plant-based products are here to stay as consumers want to incorporate more vegetables and plant-based proteins into their diets. Plant-based products are complex with many factors such as taste, texture, mouthfeel, aroma, and cost. Trilogy understands the evolving plant-based consumer and the plant-based challenges flavorists and formulators face. Our dedicated Flavor Chemists and R&D team are here to support the development of your plant-based products. Reach out to collaborate on your next plant-based food and beverage.
Sources:
a https://gfi.org/blog/2023-outlook-the-state-of-the-plant-based-meat-category/
b https://vegconomist.com/studies-and-numbers/pbfa-state-of-marketplace-retail-report/
c https://www.bevindustry.com/articles/95944-2023-state-of-the-beverage-industry-inflation-continues-to-impact-the-dairy-drink-alternative-categories
d Walji, Amrin "A Year Of Innovation In Plant-Based Drinks, Yogurts & Ice Cream, 2023," Mintel
e Pilkington, Alice "Plant-based Milks Can Recruit New Flexi-dairy-ans, 2023," Mintel
f https://vegconomist.com/market-and-trends/alt-protein-market-growth/
g https://vegconomist.com/investments-finance/exclusive-data-2023-alt-protein-invesments/
h https://fmcggurus.com/blog/fmcg-gurus-the-growing-plant-based-market-meat-alternatives/
i Bryant, Caleb "US Plant-based Proteins Market Report 2023," July 2023, Mintel
j https://www.foodbusinessnews.net/articles/24486-plant-based-meat-market-at-a-crossroads-amid-declining-sales
k https://vegconomist.com/food-and-beverage/putting-the-plant-back-into-plant-based/
l https://www.supermarketperimeter.com/articles/8437-plant-based-trend-predictions-for-2023